Chiaroscuro (Italian for light-dark), in art, is the use of strong contrasts between light and dark, usually bold contrasts affecting a whole composition. It is also a technical term used by artists and art historians for the use of contrasts of light to achieve a sense of volume in modelling three-dimensional objects and figures.Similar effects in cinema and photography also are called chiaroscuro.
Further specialized uses of the term include chiaroscuro woodcut for coloured woodcuts printed with different blocks, each using a different coloured ink; and chiaroscuro drawing for drawings on coloured paper in a dark medium with white highlighting.
The underlying principle is that solidity of form is best achieved by the light falling against it. Artists known for developing the technique include Leonardo da Vinci, Caravaggio and Rembrandt. It is a mainstay of black and white and low-key photography. It is one of the modes of painting colour in Renaissance art (alongside cangiante, sfumato and unione).
Origin in the chiaroscuro drawing.
The term chiaroscuro originated during the Renaissance as drawing on coloured paper, where the artist worked from the paper's base tone toward light using white gouache, and toward dark using ink, bodycolour or watercolour. These in turn drew on traditions in illuminated manuscripts going back to late Roman Imperial manuscripts on purple-dyed vellum. Such works are called "chiaroscuro drawings", but may only be described in modern museum terminology by such formulae as "pen on prepared paper, heightened with white bodycolour". Chiaroscuro woodcuts began as imitations of this technique. When discussing Italian art, the term sometimes is used to mean painted images in monochrome or two colours, more generally known in English by the French equivalent, grisaille. The term broadened in meaning early on to cover all strong contrasts in illumination between light and dark areas in art, which is now the primary meaning.
Chiaroscuro modelling.
The more technical use of the term chiaroscuro is the effect of light modelling in painting, drawing, or printmaking, where three-dimensional volume is suggested by the value gradation of colour and the analytical division of light and shadow shapes—often called "shading". The invention of these effects in the West, "skiagraphia" or "shadow-painting" to the Ancient Greeks, traditionally was ascribed to the famous Athenian painter of the fifth century BC, Apollodoros. Although few Ancient Greek paintings survive, their understanding of the effect of light modelling still may be seen in the late-fourth-century BC mosaics of Pella, Macedonia, in particular the Stag Hunt Mosaic, in the House of the Abduction of Helen, inscribed gnosis epoesen, or 'knowledge did it'.
The technique also survived in rather crude standardized form in Byzantine art and was refined again in the Middle Ages to become standard by the early fifteenth-century in painting and manuscript illumination in Italy and Flanders, and then spread to all Western art.
According to the theory of the art historian Marcia B. Hall, which has gained considerable acceptance, chiaroscuro is one of four modes of painting colours available to Italian High Renaissance painters, along with cangiante, sfumato and unione.
The Raphael painting illustrated, with light coming from the left, demonstrates both delicate modelling chiaroscuro to give volume to the body of the model, and strong chiaroscuro in the more common sense, in the contrast between the well-lit model and the very dark background of foliage. To further complicate matters, however, the compositional chiaroscuro of the contrast between model and background probably would not be described using this term, as the two elements are almost completely separated. The term is mostly used to describe compositions where at least some principal elements of the main composition show the transition between light and dark, as in the Baglioni and Geertgen tot Sint Jans paintings illustrated above and below.
Chiaroscuro modelling is now taken for granted, but it has had some opponents; namely: the English portrait miniaturist Nicholas Hilliardcautioned in his treatise on painting against all but the minimal use we see in his works, reflecting the views of his patron Queen Elizabeth I of England: "seeing that best to show oneself needeth no shadow of place but rather the open light… Her Majesty… chose her place to sit for that purpose in the open alley of a goodly garden, where no tree was near, nor any shadow at all…"
In drawings and prints, modelling chiaroscuro often is achieved by the use of hatching, or shading by parallel lines. Washes, stipple or dotting effects, and "surface tone" in printmaking are other techniques.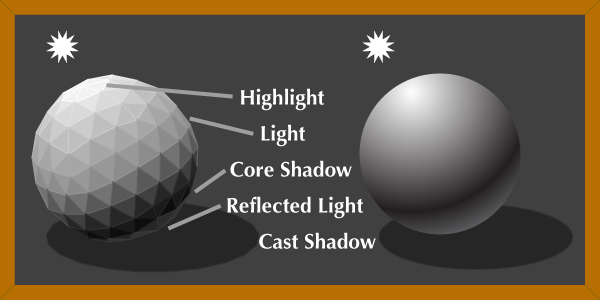 The French use of the term, clair-obscur, was introduced by the seventeenth-century art-critic Roger de Piles in the course of a famous argument (Débat sur le coloris), on the relative merits of drawing and colour in painting (his Dialogues sur le coloris, 1673, was a key contribution to the Débat).
Chiaroscuro also is used in cinematography to indicate extreme low keyand high-contrast lighting to create distinct areas of light and darkness in films, especially in black and white films. Classic examples are The Cabinet of Dr. Caligari (1920), Nosferatu (1922), Metropolis (1927) The Hunchback of Notre Dame (1939), The Devil and Daniel Webster (1941), and the black and white scenes in Andrei Tarkovsky's Stalker (1979).
For example, in Metropolis, chiaroscuro lighting is used to create contrast between light and dark mise-en-scene and figures. The effect of this is primarily to highlight the differences between the capitalist elite and the workers.
In photography, chiaroscuro can be achieved with the use of "Rembrandt lighting". In more highly developed photographic processes, this technique also may be termed "ambient/natural lighting", although when done so for the effect, the look is artificial and not generally documentary in nature. In particular, Bill Henson along with others, such as W. Eugene Smith, Josef Koudelka, Garry Winogrand, Lothar Wolleh, Annie Leibovitz, Floria Sigismondi, and Ralph Gibson may be considered some of the modern masters of chiaroscuro in documentary photography.
Perhaps the most direct intended use of chiaroscuro in filmmaking would be Stanley Kubrick's Barry Lyndon. When informed that no lens currently had a wide enough aperture to shoot a costume drama set in grand palaces using only candlelight, Kubrick bought and retrofitted a special lens for these purposes: a modified Mitchell BNC camera and a Zeiss lens manufactured for the rigors of space photography, with a maximum aperture of f/.7. The naturally unaugmented lighting situations in the film exemplified low-key, natural lighting in filmwork at its most extreme outside of the Eastern European/Soviet filmmaking tradition (itself exemplified by the harsh low-key lighting style employed by Soviet filmmaker Sergei Eisenstein).
Sven Nykvist, the longtime collaborator of Ingmar Bergman, also informed much of his photography with chiaroscuro realism, as did Gregg Toland, who influenced such cinematographers as László Kovács, Vilmos Zsigmond, and Vittorio Storaro with his use of deep and selective focus augmented with strong horizon-level key lighting penetrating through windows and doorways. Much of the celebrated film noir tradition relies on techniques Toland perfected in the early thirties that are related to chiaroscuro (though high-key lighting, stage lighting, frontal lighting, and other effects are interspersed in ways that diminish the chiaroscuro claim).
Gallery: