Hot springs are generally considered to be destinations of relaxation and enjoyment, but that's not always the case! Wai-O-Tapu (Maori word for "sacred waters") is an area of New Zealand in which the landscape has been sculptured by most colorful geothermal activity that isn't fit for swimming but still unquestionably exalted to observe from distance.
The champagne pool is the effervescent wonder within the Wai-o-tapu geothermal area in the north island of New Zealand whose temperature typically averages around 74 degrees Celsius. However, the geothermal water below the pool is significantly hotter-260 celsius° The name champagne pool is derived from the constant emanation of carbon dioxide gas from the bottom of the pool, similar to a glass of sparkling champagne.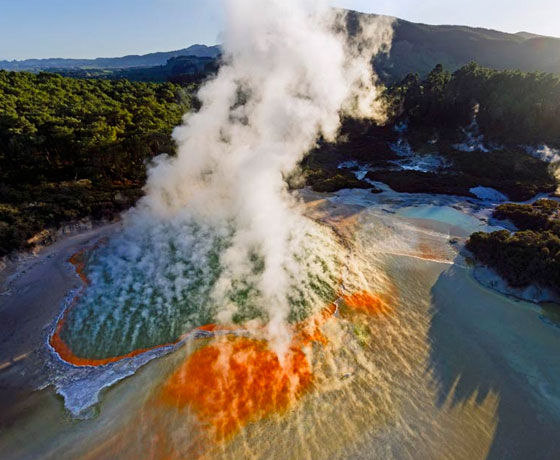 This terrestrial hot spring was formed 900 years ago by a hydrothermal eruption which makes it in geological terms a relatively young system. Its crater is around 65m in diameter with a maximum depth of nearly 62m and is filled with an estimated volume of 50,000m³ of geothermal fluid. The pool water contains a high concentration of heavy metals and its pH is 5.5 making it slightly acidic.
The vibrant colors come from a rich deposition of minerals and silicate. At the edges of the pool, the silica is lined with bright orange subaqueous deposits such as orpiment and stibnite that solidify out of the cooler water. Although Champagne pool is geochemically well classified, it is a potential habitat for many microbial life forms. The silicate structure around the edge of the pool is bristling with thermophilic microbial inhabitants.
Two new bacteria and new archaeon have been successfully isolated from Champagne pool. CP.B2 is a new bacterial species named Venenivibrio stagnispumnatis isolated from the pool. Within the order aquificale, this species can tolerate quite high concentrations of arsenic and antimony compounds.
The Wai-O-Tapu area has been protected as a scenic reserve from1931. A tourist operation named 'Wai-O-Tapu thermal wonderland" occupies part of the reserve under a concession. Wai-o-tapu's champagne pool is an excellent example of beautifully toxic things.
At Wai-O-Tapu the New Zealand State Highway 38 begins. It crosses Kaingaroa Forest, passes Murupara, and then continues as an unsealed road through the mountains of Te Urewera, along Lake Waikaremoana to Wairoa on the border of Hawke Bay.
Feature image: Åstaaroundtheworld.com