Day by day our electronics devices and gadgets getting smaller and smaller by trend of miniaturization, on other hand our mechanical machines getting bigger and bigger.Because, the bigger it is the better it is just like the song bigger the better by Nelly Furtado, mechanical engineers are obsessed to build machines of huge sizes.
1.The giant bucket wheel excavator.
Bagger 293, formarlyknown as the MAN TAKRAF RB293, is a giant bucket-wheel excavator built by the German industrial company TAKRAF, formerly an East German Kombinat. The main purpose of this machine is to excavating open mine operations.It owns record for its giant size in Guinness Book of Records. It requires five operators to operate and can move over 8.5 million cubic feet of earth per day.

It is known for notoriously chewing up a bulldozer standing idle because of its blind spots.
2. Large Hedron Collider.
The Large Hadron Collider (LHC) is the world's largest and most powerful particle accelerator. It is not just big in size but the most complex experimental facility ever built. Built by the European Organization for Nuclear Research (CERN) to study fundamental open questions of physics,forces among the elementary objects and an interrelated association between quantum mechanics and general relativity.The collider is contained in a circular tunnel, with a circumference of 26.7 kilometres (16.6 mi), at a depth ranging from 50 to 175 metres (164 to 574 ft) underground. It also has world's largest fridge it could hold 1,50,000 fridge full of food stuff at a temperature colder than deep outer space.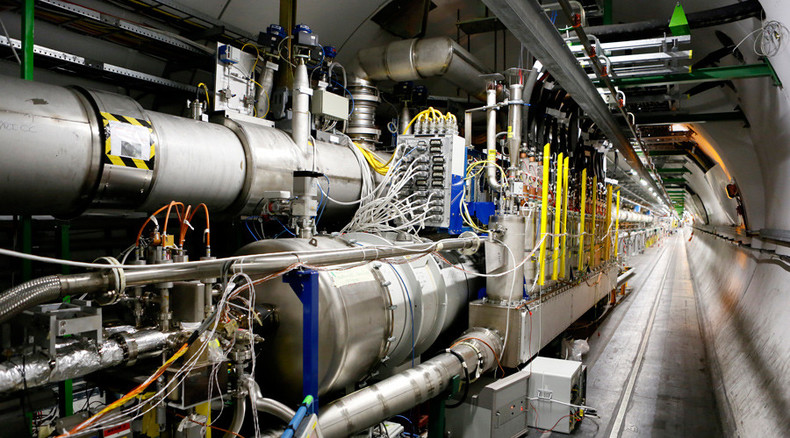 Random fact: The pressure in the beam pipes of the LHC will be about ten times lower than on the Moon. This is an ultrahigh vacuum.
3. Vending machine in Malaysia.
On it's tenth anniversary of shopping mall Berjaya Times Square based in Kuala Lumpur decided to celebrate it by building the largest vending machine in the world. The vending machine took six months to plan and build and 49 days to assemble. Its overall weight is over 7,000 pounds. A capsule-containing globe with a diameter of fifteen feet, rests on a stand of plywood and mild steel measuring 15 feet five inches in height.
4. Bertha- Tunnel Boring Machine.
Bertha is world's largest TBM with a weight of 7,000-ton and total length of 300 feet. Built particularly for the Washington State Department of Transportation's (WSDOT) Alaskan Way Viaduct replacement tunnel project in Seattle. This machine got in controversy because of its two-year stoppage. Bertha has been criticized as an example of a political boondoggle by opponents.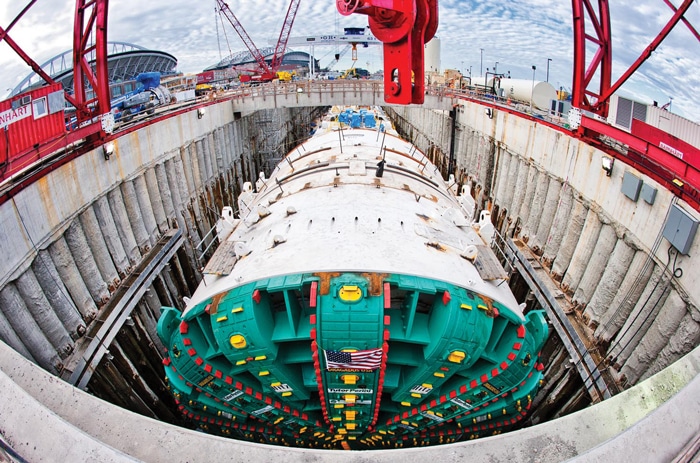 5. Dump truck -Belaz.
A dump truck is a truck used for transporting loose material for construction.This monster is powered by a hybrid-diesel engine.Its two sixteen-cylinder engines generates 13,738 pounds of torque.

6. Floating natural gas facility desguised as ship.
Shell prelude FLNG is a largest offshore facility ever constructed. The Prelude was built by the Technip/ Samsung Consortium (TSC) in South Korea for a joint venture between Royal Dutch Shell, KOGAS(Korea Gas Corporation), and Inpex.It is 488 metres (1,601 ft) long, 74 metres (243 ft) wide, and made with more than 260,000 tonnes of steel. When fully laden it displace at 600,000 tons. It is designed to hold out against category 5 cyclones(wind speed ≥ 252 km/h).
7. Biggest Motorcycle.
Built by Fabio Reggiani, this mega bike stands at 5 meters tall and weighs 5.5 tons. This is the biggest two wheeled vehicle with a top speed of 146 kmph.
The motorcycle has extended handles and a 5,000 cc 5.7 liter V8 Chevrolet engine with 3-speed transmission.
8.Aperture Spherical Telescope.
China has built the world's biggest radio telescope, whose 1,650-foot-wide dish scan the sky for signs of intelligent alien life and to study astronomical aspects.FAST was built in China's Guizhou Province, more than 1,240 miles (2,000 kilometers) southwest of Beijing. FAST (Five-hundred-meter Aperture Spherical Telescope) was built in China's Guizhou Province, more than 1,240 miles (2,000 kilometers) southwest of Beijing.
Featured image: Al-jazeera.com